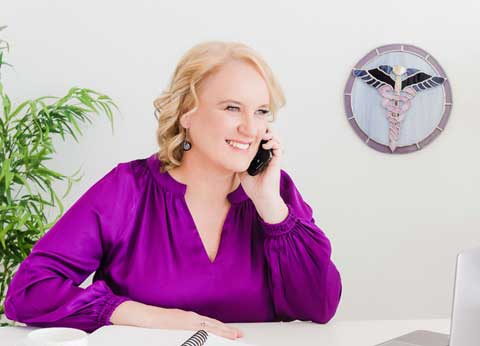 Effective communication is vital to quality patient care. Our programs and training options focus on giving you the communication tools required to build and participate in successful work environments. Our workshop-style courses offer a small classroom environment to learn together with others, while one-on-one consulting allows you to have a more individualized approach to learning.
The two courses available are PCM (Process Communication Model) and LOD (Learning Out of Drama). Each course is designed to impart essential communication skills to improve communication and conflict resolution in the workplace and in your personal lives.
In the medical field, conflict can occur in many different situations. For example, meeting the demands of patients or their family or careers can often be difficult. Interactions with colleagues can also present challenges, from timetables to conversations between managers and staff on the ground. The right communication skills and conflict resolution skills can help anyone to address these challenges in the right way to get the best outcomes. They are also applicable in other industries, and even in your personal life. Recognizing conflict can be about not just external conflict, but internal conflict too.
You might think that you're not very good at handling conflict, or perhaps you think that you can already manage conflict well and want to improve your skills. Taking a course in PCM or LOD will help you to grow your skills and approach conflict in a new way. It doesn't matter which one you do first; both are complimentary. One approach may be to take the PCM course first, and then expand on what you have learned with the LOD course. PCM and LOD are distinct skills to learn and can be used together very effectively.
Tania's gentle and insightful coaching style enables me to explore areas where I need to move forward. She is respectful, compassionate and innovative in her guidance. She raises self awareness through deep questions that are a catalyst for change.
Dr Penny Slater, Program Manager, Oncology Services Group QCH

Tania's coaching has made everything in going forward, seem so simple. From the very first session she made me feel completely at ease and I trusted her immediately. She was so professional and inspiring, yet warm, honest and somehow familiar all at the same time.

Tania's coaching sessions allowed me to reflect on what I was learning about myself and the way I operate. She helped me learn to organise and prioritise where and when I focus my energy, and this has greatly helped with my confidence in responding and communicating more effectively.

Lastly, Tania allowed me to 'dig deep' and focus on what drives me, so that I can authentically live life to the fullest both professionally and personally. Thanks Tania, I honestly cannot thank you enough! You are a super star!

Alita Carpenter Middle School Coodinator/Teacher
Peregian Beach College
---
Process Communication Model (PCM)
The Process Communication Model (PCM) is a behaviour-based method that improves self-awareness and self-management skills, as well as the ability to manage others. This communication tool is evidence-based, and has been used across many industries and organisations, including by NASA when selecting and training astronauts. The PCM course teaches you a range of communication skills that you can use throughout your career and in a variety of workplaces and personal relationships.
The Process Communication Model was created by Dr Taibi Kahler and is based on the appropriate ways to respond to productive and unproductive behaviour (successful and unsuccessful communication). PCM has been researched for more than 30 years. It provides a method of understanding communication dynamics, how life events impact people, and different personality structures. Process Communication Model helps you to understand not just other people's behaviour, but your own behaviour too. It gives you the tools that you need to analyse conflict and communicate effectively.
When you have completed the course, you will be able to:
Be self-aware, understand what inspires you and manage yourself better
Know how to motivate yourself and others for higher productivity
View and interpret other people's behaviour objectively, without applying your own filters
Pick up on miscommunication and solve it before it develops into a bigger problem
Detect the beginning of disruptive and unproductive behaviour
Quickly respond to difficult situations to defuse
Once you have finished the course, you will be able to apply what you have learned immediately. When you start putting your new skills into practice, you can soon start to build on them and master them. The more you use your skills, the easier it will feel to use them on a daily basis.
Consider taking the Leading Out of Drama course after completing the PCM program.
"The integration of PCM within our culture has most certainly had a positive effect on all aspects of the business. All my people have attended PCM courses and go on regular refresher courses. It is now very much part of the DNA of Wellnz."

– Former CEO Brian Blackman
---
PCM Workshops
PCM 1 – Core Concepts
A three-day workshop on the core concepts of PCM. Develop skills for more powerful connection with the people around you, atop a platform of game-changing self-awareness. The perfect primer for our further workshops.
PCM 2 – Conflict Resolution and Motivation
A premium three-day workshop on conflict resolution and motivation. Delve deeper into the signals and behaviours of people in distress. Learn how to masterfully invite yourself and others out of destructive scenarios, and ultimately how to prevent them. Enjoy a range of more practical exercises that develop your confidence with your enhanced communication skills.
You can read more here: pcmoceania.com
And (video) explaining it is https://pcmoceania.com/learn-pcm/#
"PCM is like no other course. It gives you the tools to do something with the knowledge you gain, unlike pretty much every other management / 'discover yourself' course I've ever been on… and that's a lot!!! PCM is societal gold in this sometimes-crazy world!!"

– Manager Safety Services, Air Services Australia
---
Leading Out of Drama (LOD)
Leading Out of Drama focuses on conflict resolution. This course is designed to teach you a communication tool that gives you the skills and processes you need to deal with conflict effectively. The LOD course teaches you about Compassionate Accountability and helps you to develop a personal action plan so that you can apply the skills in your workplace.
The Leading Out of Drama workshop teaches you to:
Recognize the roles and behaviours related to drama, and when it is occurring
Understand gossip and sabotage and how they affect the workplace
Recognize the difference between drama-based helping and compassion-based helping
Tell the difference between good and bad conflict, and how to work with other people to resolve it
Recognize three key indicators that you are getting involved in drama
Identify three choices that you can make to stay healthy
Learn and practice the formula for compassionate conflict
Develop a personal action plan to apply Compassionate Accountability in your workplace
"As a romance writer I am always leading my characters into drama in order to escalate conflict so I can then resolve it by the end of the novel. But I don't want such drama in my personal or professional life! Compassionate Accountability skills were extremely valuable in providing skills and tools for more effective communication to aim for, and maintain, harmonious relationships." – – Sydney Australia Participant
Conflict management and resolution is essential for anyone in a professional field, and it's useful in personal situations too. Avoiding conflict completely isn't likely to be possible in most workplaces or homes, but understanding how to navigate it effectively for the best outcomes helps to minimize its impact. Although conflict might be unavoidable, it doesn't have to come from drama. The LOD course teaches you how to set drama aside, subvert it and resolve it so that you can communicate in new ways. You will be able to use compassion to work with others, and make healthy communication choices.
"I've found the Compassionate Accountability (LOD) method of significant value and meaning, immediately applicable in my personal and professional life. The ability to cut to the crux of conflict in a positive, constructive way." – 'Millennial' trainer
---
LOD Workshops
CONFLICT and YOU – The Basics of Compassionate Accountability – In this half-day introductory course, discover basic strategies for transforming the energy of conflict into meaningful contribution.
Understand your role in drama and negative conflict.
Learn to adjust your behavior for healthier and more effective interactions.
Feel more confident in engaging in positive conflict with others.
Be the person who can do conflict without all the drama.
LEADER'S APPLICATION PACK – Four guided handbooks help leaders apply Compassionate Accountability in everyday interactions that have the highest potential for drama. Handbooks require 2-4 hours to work through, and culminate with action plans and quick reference guides.
Connections: Improve connections, strengthen work relationships and build trust at all levels of the organization.
Meetings: Foster an environment of safety, curiosity and consistency in every meeting to increase productivity and achieve results.
Performance Conversations: Conduct performance conversations on a regular basis to balance care and concern with attention to results.
Apologies: Learn and apply a four-step process for apologies that show humility, take responsibility, regain trust and rebuild relationships.
LOD CORE CONCEPTS – In this one-day foundational course, you will learn and practice the fundamentals of Compassionate Accountability. You will learn to:
Recognize drama, drama roles and behaviors.
Understand cultures of gossip and sabotage.
Recognize the difference between drama-based helping and compassion-based helping.
Distinguish between good and bad conflict and how to struggle with, rather than against, one-another.
Recognize three key indicators that you are slipping into drama
Identify three choices you can make to stay healthy.
Learn and practice the formula for compassionate conflict.
Develop a personal action plan to apply Compassionate Accountability skills going forward
More information can be found here: https://next-element.com/tools/lod/
"This course has taught me the power of having the right communication both verbally and within thoughts. I am excited to use this personally as I deal with 'drama' daily in a Human Resources position." – Christie Dent, HR Manager
---
Mindset Coaching
I found the coaching sessions with Tania to be extremely helpful. Tania is a beautiful human being who creates a very safe and caring environment. She has great deep listening abilities and asks really relevant questions. I loved that the second session was so wonderfully individually tailored in its approach. I got so much out of the style she used. I wholeheartedly recommend Tania as she utilizes all her amazing skills in a professional and yet caring manner. – Laina, Business owner.
Benefit from one-to-one consulting if you are looking for a more personal approach to learning the communication skills that you need. With individual help, you can receive the assistance that you need to understand how to improve your communication skills. One-on-one consulting allows you to focus on the skills that matter most to you. You can discuss how you want to use your conflict resolution skills in your life, whether you want to employ them in the workplace, in your personal life, or both.
---
Book Mindset and Leadership Coaching
If you are ready to make a change in the way that you communicate and deal with conflict, get in touch about the program that you are interested in. Book your place on a workshop that suits you, or ask about personal consulting for a more individualized approach. Benefit from leadership and education from professionals who have trained in communication skills and employed them in their own professional and personal lives. Take your career to the next level by improving your soft skills and communicating better than ever.
LEARN EMOTIONAL INTELLIGENCE – It's an integral but oft-overlooked aspect of intelligence that is integral to proper social and emotional development. It can be viewed in terms of a profile of specific competencies that range across four different areas of personal ability. These include:
Self-awareness
Self-awareness is an important aspect of emotional intelligence and one that can play a large part in determining how accepted we are socially. It involves the careful monitoring of our own inner world including thoughts, beliefs and emotions and to what extent we express them to the outside world. It requires the ability to accurately assess our own psychological and emotional state in any given moment and has a demonstrable effect on self-confidence.
Self-management
Similar to self-awareness, self-management primarily deals with our interactions with those around us. It includes the ability to monitor and control our impulses and take initiative when the situation requires it. Our self-management skills often help drive us to achieve and put tasks or other people before our own immediate needs.
Empathy and social awareness
Social awareness involves the intuitive understanding of the psychological and emotional states of those around us. It enables us to gauge how others are feeling by interpreting nuances of vocal and facial expression and body language.
Relationship management
Relationship management dictates how we relate to other people at work and in social situations. Those with good relationship management skills are able to influence and inspire others and often have good leadership skills. They are also good at resolving conflicts and keeping social interactions harmonious.
Although I had a rough idea, I didn't really understand the purpose of a mindset coach. However, after spending time with Tania, I have a much clearer perspective of the usefulness of engaging with an objective professional from 'outside'. With Tania's help, I was able to identify areas where I could focus my efforts in order to improve my career direction. I have been able to recognise that I have a fantastic balance in my work and home life and that I am very comfortable in my current situation.

I came away from every coaching session with a clearer understanding of how people might respond to my actions and how I could improve my skills. The sharing of ideas has affirmed my self-awareness and confidence in my ability to be a success in my chosen profession.

I would recommend Tania for her ability to probe for what is really important and her ability to listen carefully and guide me with actions that became apparent.

Shane, Teacher
Peregian Beach College